As well as having the expertise and capability to design and develop your unique pharma and healthcare primary packaging solutions, Origin can also fill and label the units thanks to our newly fitted, in-house ISO 5 commercial aseptic filling cleanrooms.
In-house market-leading aseptic filling –
7

ISO 5 filling environments

This state-of-the-art liquid filling facility has been specifically designed to meet and surpass the stringent regulations laid out by ISO standards, ensuring that it consistently provides suitable and versatile environments for aseptic filling. The achieving of ISO 5 has been made possible through a reliable and undisrupted supply of HEPA filtered air whilst operating under positive pressure. The result is a cutting-edge space dedicated to the automated filling of liquid vials, which operates under positive pressure to guarantee that any harmful bacteria, viruses and other microorganisms are prevented from entering.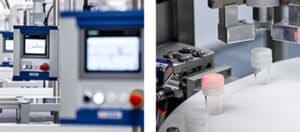 A holistic solution
The benefits of a fully automated liquid filling line are wide-ranging. Aside from the crucial factor of sterile conditions within a sealed cleanroom, we take the complexity away from our clients by delivering every element of product development under one roof. By managing the meticulous processes of design, innovation, development and filling, we underpin your commitment to launch within the tightest of schedules.
Perfect for projects of any scale
As for quality, our aseptic filling facility is a global leader and second to none. When we say liquid vial finish, that's exactly what we provide: a finished product that exceeds all expectations so that it's ready for distribution. With the capacity to take on anything from small runs to high-volume filling, you can be assured that your sterile liquid filling project will be managed and delivered to the highest quality.
Wide-ranging capabilities
The vial filling suite can handle any and all of your specifications, including sterile and non-sterile formulation and filling for everything from liquid medical devices to the full spectrum of liquid healthcare products. This means that whether your product is medicinal or falls under another area of health and wellbeing, we're your trusted partner for all forms of cleanroom manufacture activity.
How does cGMP Sterile Filling work?
A facility that offers cGMP Sterile Filling has been specially designed around multiple criteria. As well as being a cleanroom of outstanding quality, its equipment is used for the manufacture of sterile materials and their associated filling processes. This involves your pharmaceutical or healthcare product being carefully transferred from the production line via a sterile filling needle into a sterile container, which is then instantly sealed.
All staff and visitors within the space must wear suitable protective coverings, ensuring that there is zero risk of contamination to the sterile product and its primary packaging. When combined with clear and rigorous safety and hygiene practices, you achieve the peace of mind that every unit complies with the Current Good Manufacturing Practice regulations enforced by the FDA.
ISO Certificated
Needless to say, sterile manufacture is a highly complex and stringent area of production. As well as the stipulations of ISO 5, the automated liquid filling process takes take place within a cleanroom that complies to the safety standards required of GMP facilities. Using automated pick and place technology and localised LAF and filtration systems, each primary packaging unit is filled exactly as required, ensuring precision every step of the way.
Once the vials have been filled with liquid in our ISO 5 cleanroom, the goods are carefully transferred to ISO 7 areas. It's here that the final product packaging and labelling processes take place, finalising an automated liquid filling production cycle that thoroughly complies with ISO 14644 for cleanrooms and associated controlled environments.
A highly experienced team
When you require a team of specialists and a professional facility for medical device manufacture, choosing Origin to take care of every stage of the product's creation enables an infallible end result. By manufacturing, filling, packaging and labelling your medical or healthcare product within one ISO 5 and ISO 7 facility, you gain the confidence that every unit is fit for purpose and ready to be marketed to consumers.
Regulatory Compliance
Intricately designed around the needs of our primary packaging technologists, our aseptic filling facility is fully compliant for the sterile filling of a range of liquid products.
Sophisticated automated systems allow the filling of your product into a final vial, primary device or cartridge, ensuring that it is ready for use by the patient, consumer or healthcare professional. This comprehensively sterile process means that we can support your next project no matter how large, small or time-sensitive it may be.
Our mantra is "100% compliant and results at all times", which is reflected in our constant vigilance across the aseptic filling and packaging stages. By keeping ahead of ever-changing regulatory requirements, you can be certain that the outcome will perfectly suit your requirements. In the process, we maintain open communication so that the approach can be adapted to your precise vision, guaranteeing maximum efficiency and an exemplary product.
With over 55 years of experience and innovation in primary packaging production, Origin combines market-leading aseptic filling facilities with focused delivery to create a truly efficient supply chain.
With over 50 years of experience working with many of the world's leading brand owners, we're proud to offer our customers a range of custom-made solutions developed in our state-of-the-art cleanrooms in the UK, Poland and the US.
Our facilities enable us to manufacture innovative thermoformed solutions, such as sterile barrier packaging, engineered to maximise revenue, reduce cost and increase your speed to market. No matter what you need when it comes to a cleanroom facility for the production, filling, packaging and labelling of medical and healthcare products, Origin Pharma Packaging will deliver a truly exceptional solution.